Posts Tagged 'rachel mlinarchik'
Classic Neutrals, all made in USA: Suno, $595; Milly, $425; Vera Wang, $1750
Not sure what to wear to the DC Ecowomen Gala? Something eco-friendly, of course! The #1 most eco-friendly place you can shop is, of course, your own closet, but if you realllllly can't find anything that gets you excited, then donate or consign those dresses you're not digging, and start the hunt for a new one.
One of my favorite ways to shop sustainably is by shopping for secondhand and vintage dresses. For vintage, Etsy is one of the easiest stops with the widest variety of sizes and eras, and for secondhand dresses, you can check out Ebay if you're looking for something specific, or head to a consignment site like Mode Marteau or Snobswap to get a more edited, on trend selection.
Last but not least, don't forget to hit up the local consignment stores that are right here in DC! These are all small businesses, so you can feel good about supporting them, recycling an article of clothing, and undoubtedly finding a beautiful dress you'll wear for years. Each of the stores below has well-edited, quality stock that changes almost daily, so you never know what you'll find:
Reddz Trading (Bethesda and Georgetown)
If you're looking for something brand-spanking new, that's cool, too. There are so many on-trend brands out there that (thankfully) use organic materials, manufacture their dresses here in the USA, or use fair trade labor, and I've put together a few of my favorites in the images above and below.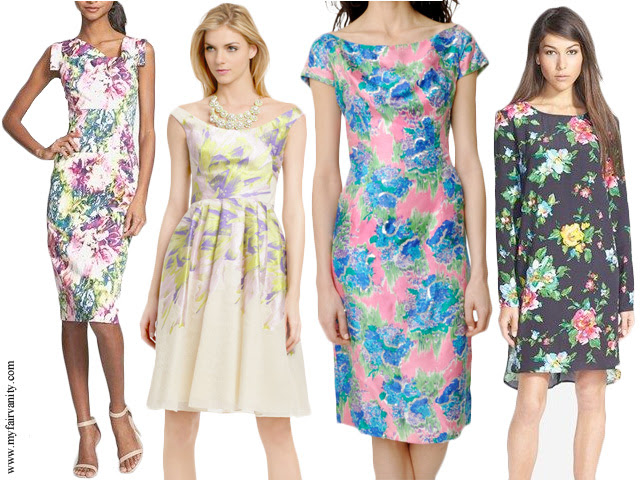 Spring florals:
Black Halo, $375; Lela Rose, made in the USA, $40 from Rent the Runway;  
Vintage dress from Etsy, $98;  Wayf, made in the USA, $58;
Last but not least, one more eco-friendly way to dress to impress is to rent a dress via Rent the Runway. You choose dresses priced at $1500 and spend $50 to rent them for one evening, empowering several other women to wear it after you. It's kind of like Zipcar or Car2go for dresses, and I think it's the bees knees.
If you'd like to see dozens more ethical dress options like the ones above, click over to my ever-growing Pinterest collection of eco-friendly party dresses, and follow along with me on My Fair Vanity. And, of course, don't forget to grab your tickets for the Gala!
Rachel Mlinarchik blogs about sustainable style that is kind to the earth and the people on it at My Fair Vanity.
I'm pleased to introduce you to one of my favorite new sustainable style retailers: Modavanti. Even though they are less than a year old, they've already pulled together a solid collection of stylin' clothes and accessories that are environmentally friendly, ethically sourced and/or promoting social good. I put together a few of my favorite pieces in the image above, but those are just the highlights!
Modavanti also makes their sustainable evaluation process easy to understand by using a simple badge system that is nearly identical to what some of your may already know as my Fair Elements of Style:
But even if you put all of that do-gooding aside, the items they carry are simply well-made and on-trend, which is exactly as it should be. Probably the strongest section is the selection of bags, which has a variety of styles available at several price points, from polished clutches to fringed hobos. These make Modavanti a solid option for the ladies on your holiday shopping list! If you're going to consumer, this is a place where you can be a proudly eco-conscious consumer.
On the more affordable side of the spectrum (and my personal favorites) are the bags by Angela + Roi that are pictured below. Not only do they come in a slew of beautiful colors, but $5 from the purchase of each bag is donated to a worthy cause related to the color of the bag in some way. For example, the poppy red bag benefits AIDS research in Chicago.
And guess what: I still have more good news for you! This month, I've partnered with Modavanti to offer the DC Ecowomen (and MFV readers) two ways to save a little cash as the holiday shopping season approaches:
1.  Take 15% off all of your purchases at Modavanti through the month of November with special code MYFAIRVANITY.
2. Each one of you can enter to WIN a red Angela + Roi bag over on My Fair Vanity!
In the meantime, I'll be seeking out more eco-friendly online retailers, brands and style advice to share with you in December. Until then, may the Sustainable Style Force be with you.
Ecowomen fashion blogger Rachel Mlinarchik curates sustainable style that is kind to the earth and the people on it at www.myfairvanity.com
a Rafflecopter giveaway

Written By EcoWomen Fashion Blogger Rachel Mlinarchik

While it's tempting to buy a costume off the rack, it really just creates more stuff. Add to that the fact that most Halloween costumes are made under questionable working conditions in far-flung locales, and the creative, DIY approach seems the best way to go. To get you inspired and ready to create a costume from your closet, I've put together three easy DIY Halloween costumes ideas from my own wardrobe.
1. Princess Leia
This first look is a crowd pleaser for sure. I mean, who doesn't love Star Wars? To put together your own DIY Princess Leia look, you really don't need very many pieces.
Almost everyone has a white turtleneck shirt or sweater, white jeans, and boots in their closet. Borrow a toy gun to carry around (a nice touch, but not essential), pin up your hair, and boom: Princess Leia.
See more of my Princess Leia costume and the photos I used as inspiration here.
2. Fortune Teller
A DIY fortune teller costume is even easier than Princess Leia and requires a very simple three-step process:
1. Get out every scarf and scarf-like item of clothing you own (focus on hippie prints).
2. Get out all of your jewelry, especially rings.
3. Put it ALL on.
For a little extra oomph, add heavily kohl-lined eyes and deep red lipstick, as I've done here, and start telling people that you see a long life and a great love in their futures.
The 90s are the hotness right now, so why not channel them with an iconic Courtney Love costume? All you need is a slip dress with something racy underneath, ripped up tights, and some seriously messed up make-up.
3. Courtney Love
If you check out my full look, you'll see that I did this one as a couples costume with my husband dressed up as Kurt Cobain, but Courtney can easily stand alone.
I hope these three DIY looks get you thinking about creative ways to use your own closet this Halloween. If you like them, be a hero and share them with a friend — you might single-handedly ensure that one less cheap polyester costume ends up in a landfill this year.
Guest blogger Rachel Mlinarchik curates sustainable style that is kind to the earth and the people on it at www.myfairvanity.com


On Tuesday, I talked a little bit about what you should or shouldn't wear to work.  Now Rachel Mlinarchik takes it one step further and talks about how to wear eco-friendly fashion to work. Rachel is the voice behind Fair Vanity, a style blog that empowers its readers to live a fabulous, fun, stylish life that is also fair and kind. Each item featured on Fair Vanity was designed or supplied by someone who has made a conscious effort to be kind to the earth or the people on this earth…or both! Fair Vanity is charting a new way for compassionate women who love fashion but don't want to compromise their values or their style when they shop. Rachel will be a semi-regular blogger here, so stay tuned for her great eco-friendly style tips!
We all want to be more eco-conscious in our choices when shopping for office attire, but let's face it– in a sea of "made in China" tags, it's tough to find high-quality, stylish pieces that are kind to the earth and the people on the earth. Never fear, my fair friends! Being eco-friendly doesn't mean you need to waltz into the office wearing a hemp scarf and an organic jersey skirt made of the same material as your yoga pants.
When I begin the hunt for a new addition to my wardrobe, I keep an eye out for what I call the Fair Elements of Style. Today, for example, I've put together a few looks comprised of items that reflect one or more of the following qualities:
Fair Trade
Organic
Made in the USA
Recycling/Upcycling
Second-Hand
Vegan
Vintage
Look #1: A Day at the Office
You can't go wrong when you combine navy, cream and camel. They are similar to grey and black in terms of versatility, but a little less severe. Timeless and elegant, these colors will never go out of style, so separates in these colors make sensible, long-term investment pieces.
Look#2: After-hours Event
These jewel-toned shift dresses are classic staples that can easily take you from lunch meetings to an evening event. Any piece of clothing that can do double-duty in this way is a style win and an eco win in my book. Create a conservative, casual style by adding flats and a cardigan or blazer to these classic shifts, or dress them up for evening by adding statement jewelry and black patent spike heels.
Gold necklace is vintage Monet from Etsy.
Dresses are made in the USA by Nanette Lepore. Yellow dress w/ tie detail (on sale!) available here; Jade and violet dresses w/ bracelet sleeves available here.
As you can see from the looks above, Etsy and Ebay are go-to resources for me, especially when it comes to finding vintage and used shoes and jewelry. However, I've had many readers tell me that they find these sites much too overwhelming in terms of choices.
The trick to finding what you want and need on huge web sites like these is to know exactly what you're looking for. For example, searching for "Stella McCartney black patent heels size 7″ on Ebay  is going to get you much better results than"black heels." And on Etsy, you can filter your results to include only vintage items, making it easier to guarantee you are reusing and recycling through your purchases.
My last piece of advice is not limited to shopping for work attire, but can applied across the board to any clothing purchases you make in the future: no matter how good of a deal it is, or how on-trend it is, if you don't love it–and I mean absolutely LOVE it–don't buy it. I know we hear this all the time, but it bears repeating. Every piece you purchase should fit you well and make you feel confident when wearing it. If these criteria have not been met, you might wear it once, but your hard-earned money will be wasted, and the item will end up in the back of your closet or worse yet, adding to the tons of clothing that we throw away each year.
Today I've shared just a few of the many options out there for all of you stylish Eco Women who are looking to expand your wardrobes fairly and kindly. For more fair fashion inspiration, I encourage you to stop in and visit with me at www.myfairvanity.com every once in a while.
xo
Rachel