Posts Tagged 'my fair vanity'
Classic Neutrals, all made in USA: Suno, $595; Milly, $425; Vera Wang, $1750
Not sure what to wear to the DC Ecowomen Gala? Something eco-friendly, of course! The #1 most eco-friendly place you can shop is, of course, your own closet, but if you realllllly can't find anything that gets you excited, then donate or consign those dresses you're not digging, and start the hunt for a new one.
One of my favorite ways to shop sustainably is by shopping for secondhand and vintage dresses. For vintage, Etsy is one of the easiest stops with the widest variety of sizes and eras, and for secondhand dresses, you can check out Ebay if you're looking for something specific, or head to a consignment site like Mode Marteau or Snobswap to get a more edited, on trend selection.
Last but not least, don't forget to hit up the local consignment stores that are right here in DC! These are all small businesses, so you can feel good about supporting them, recycling an article of clothing, and undoubtedly finding a beautiful dress you'll wear for years. Each of the stores below has well-edited, quality stock that changes almost daily, so you never know what you'll find:
Reddz Trading (Bethesda and Georgetown)
If you're looking for something brand-spanking new, that's cool, too. There are so many on-trend brands out there that (thankfully) use organic materials, manufacture their dresses here in the USA, or use fair trade labor, and I've put together a few of my favorites in the images above and below.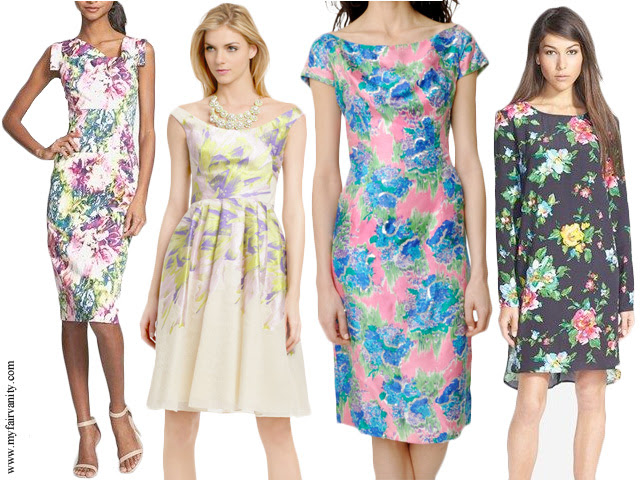 Spring florals:
Black Halo, $375; Lela Rose, made in the USA, $40 from Rent the Runway;  
Vintage dress from Etsy, $98;  Wayf, made in the USA, $58;
Last but not least, one more eco-friendly way to dress to impress is to rent a dress via Rent the Runway. You choose dresses priced at $1500 and spend $50 to rent them for one evening, empowering several other women to wear it after you. It's kind of like Zipcar or Car2go for dresses, and I think it's the bees knees.
If you'd like to see dozens more ethical dress options like the ones above, click over to my ever-growing Pinterest collection of eco-friendly party dresses, and follow along with me on My Fair Vanity. And, of course, don't forget to grab your tickets for the Gala!
Rachel Mlinarchik blogs about sustainable style that is kind to the earth and the people on it at My Fair Vanity.
Written By EcoWomen Fashion Blogger Rachel Mlinarchik

While it's tempting to buy a costume off the rack, it really just creates more stuff. Add to that the fact that most Halloween costumes are made under questionable working conditions in far-flung locales, and the creative, DIY approach seems the best way to go. To get you inspired and ready to create a costume from your closet, I've put together three easy DIY Halloween costumes ideas from my own wardrobe.
1. Princess Leia
This first look is a crowd pleaser for sure. I mean, who doesn't love Star Wars? To put together your own DIY Princess Leia look, you really don't need very many pieces.
Almost everyone has a white turtleneck shirt or sweater, white jeans, and boots in their closet. Borrow a toy gun to carry around (a nice touch, but not essential), pin up your hair, and boom: Princess Leia.
See more of my Princess Leia costume and the photos I used as inspiration here.
2. Fortune Teller
A DIY fortune teller costume is even easier than Princess Leia and requires a very simple three-step process:
1. Get out every scarf and scarf-like item of clothing you own (focus on hippie prints).
2. Get out all of your jewelry, especially rings.
3. Put it ALL on.
For a little extra oomph, add heavily kohl-lined eyes and deep red lipstick, as I've done here, and start telling people that you see a long life and a great love in their futures.
The 90s are the hotness right now, so why not channel them with an iconic Courtney Love costume? All you need is a slip dress with something racy underneath, ripped up tights, and some seriously messed up make-up.
3. Courtney Love
If you check out my full look, you'll see that I did this one as a couples costume with my husband dressed up as Kurt Cobain, but Courtney can easily stand alone.
I hope these three DIY looks get you thinking about creative ways to use your own closet this Halloween. If you like them, be a hero and share them with a friend — you might single-handedly ensure that one less cheap polyester costume ends up in a landfill this year.
Guest blogger Rachel Mlinarchik curates sustainable style that is kind to the earth and the people on it at www.myfairvanity.com


Guest writer Rachel Mlinarchik is the voice behind My Fair Vanity, a blog dedicated to style that is kind to the earth and the people on it.
Even if it still feels like summer, I'm ready to get  excited for fall, so I've put together some of my favorite eco-friendly items for when cooler temperatures roll in. These selections will allow you to try out some of fall's  hottest trends while still being kind to the earth and the people on it, and I'll offer a few tips on finding sustainable options in your hometown or online.
Downtown Prepster
First up is a snazzy dress shirt from Zady. Proudly made in the New York garment district, the price might be high, but this shirt is made to last for years. The beautifully structured messenger bag is made exclusively for ASOS' new "Green Room," a fantastic effort on  the part of the company to be transparent about where and how some of  its products are made. This particular bag is leather, but it is also made in local factories in the U.K. It comes in every color of the rainbow and even though it wouldn't be very eco-friendly, I want all of them.
The patent leather tortoise shell oxford shoe is made by Attilio Giusti Leombruni in a 3rd-generation-owned family factory in Italy. It's perfect to wear  with chunky sweaters or slim-cut collared shirts in the fall and winter  to incorporate a little menswear into your style. Although I would  rather buy made in the USA, I believe that investing in  high-quality products made in countries with minimum wage and  fair labor laws is also solid, sustainable choice.
I'm very excited to share two pieces from one of my favorite jewelry lines: Alkemie. Both the elephant ring and the nautilus earrings are made in Los Angeles of 100% reclaimed metal with sterling silver posts.
Right along those lines is the chain link cuff bracelet by Mettle (available from Collective Habit). All of Mettle's products are  hand-forged, fair trade accredited, and made from recycled bombshell  brass in Cambodia and Indonesia  within a small, not for profit, income generating and training project  owned by its members. Boom.
When I see this kind  of thought, care and kindness behind such beautiful clothing and  jewelry, it makes me want to march in to the offices of the larger  retailers (with far more capital and potential to change lives) and  say, calmly and clearly: You can do better. No. Seriously. You can.
Instead of finger-wagging, though, one thing we can all do is ask, ask, ask. Whenever you're shopping online, if the products you're browsing aren't clearly labeled with information about  where or how they are made, send a quick email to customer service with your question. In a physical store, politely ask the sales associates to point you towards  goods that are made in the USA or made using fair labor practices. The  more you and I ask, the more managers and buyers will start to think about where and from whom they are making purchases.
But I digress.
Add A Little Edge
Let's move on to the edgier, modern punk look. I'm loving these leather-waisted, pleated trousers by Milly, and loving even more that they are made in the USA.  Bonus: many of you will be pleased to learn that the silver oxfords by Jeffrey Campbell are part of a special vegan line he produces for Convert. Convert, for the record, is an apparel, shoe and accessories store dedicated to both style and sustainability.
The bangles are handmade from locally sourced woods and  metallic leathers by marginalized women in Northern India for Raven and Lilly. Proceeds from this particular collection fund literacy programs for women artisans and their children.
The crazy leggings by Conditions Apply for Shop Ethicare are so eco-friendly that they require a bulleted list to get all the goodness across:
Made at a company-owned factory in Gurgaon, India, allowing the  brand to control working conditions throughout its supply chain
Water at the manufacturing facility is collected and recycled
Fabric scraps are salvaged and used to make one-of-a-kind pieces
Employees have access to medical care and micro-loans
Production is based on orders, not forecasts, to reduce waste and avoid surpluses
And last but certainly not least, the exposed zipper black sheath dress is another item from the ASOS Green Room. This one is perfect to wear with a cardigan at work during the day, all the while knowing you are ready for date night once evening falls. Business in the front, party in the back!
Looking for another way to ramp up your wardrobe sustainably? Join DC EcoWomen for our clothing swap on September 29th! Just bring in your gently used clothes, accessories, or shoes, to "shop" for each other's items. Go to the Event Page to sign up today!

The following is a guest post by Rachel Mlinarchik of My Fair Vanity
A Guide to DC's #1 Second-hand Style Source
The last time I visited with you, I shared a few eco-friendly options for the office. Today I'm going to sing the praises of one of our local area consignment super-stars. After all, purchasing (and selling my own) lightly-used clothing is my favorite way to:
Trade my rarely worn items for cash to buy clothing I will wear.
Build quality items into my wardrobe from labels I couldn't normally afford, thereby avoiding disposable, fast fashion that won't last.
Reuse and recycle, keeping perfectly good clothing and accessories out of landfills and inside my closet—or yours!
Refinery29 has already done a thorough accounting of awesome consignment stores in the DC metro area, so I'm going to focus on what I consider to be the best of the best: Secondi.
I would estimate that more than 50% of my regularly worn clothing and accessories were purchased from Secondi. I can say this with some confidence because, looking back through a gallery of my outfit posts, it's difficult to find an outfit that doesn't include at least one item from my favorite local store, whether it's a bangle, a coat, or a blouse.
Below, I've put together just a few examples of the ever-growing Secondi collection I have amassed over the years. Every single item I've listed is from Secondi:
As you can see, Secondi has me well-equipped for all four seasons, but I made sure to stop in yesterday evening right before closing time to scope out the latest spring treasures on offer for my favorite eco women:
Perfect for a summer wedding or a hot date, these Marc Jacobs sandals are in mint condition.
Tangerine Manolo heels and fuschia Talbots flats are perfect for spring.
A well-cut trench is a key staple for April and summer showers.
These cheery pencil skirts are from JCrew, Tory Burch, Cynthia Rowley and Leifsdottir.
What impresses me most about Secondi is the range of price points they carry and the keen editorial eye of their staff. Any one of the clutches pictured above may be priced at $15, but those who are looking for more of an investment piece can snap up a structured, tomato red Michael Kors bag.
I don't know about you, but I'm going to head back in tomorrow to pick up a few things. Consider this your fair warning that the good stuff at Secondi goes fast, so if you see something that catches your eye, get thee there today!
To continue with me on my quest for personal style that is kind to the earth and the people on it, I hope you'll visit with me now and again at My Fair Vanity, or better yet, I hope to see you in person at the DC EcoWomen conference in May. I've reserved my spot…have you?