Posts Tagged 'gala'
By Alyssa Ritterstein, DC EcoWomen Blog Manager and Communications Committee VC
More than 15 years ago, two women hatched a plan to launch EcoWomen. Today, there are more than 5,000 women in the DC EcoWomen network. Here are a few photos to showcase DC EcoWomen through the years. I hope you enjoy them!
Alisa Gravitz, CEO of Green America, was the speaker at our first EcoHour – a free event where successful women in the environmental field discuss their work (left). In 2005, we heard from various women during our EcoHours. Juliet Eilperin, Environmental Reporter at Washington Post, was one of them (right).
In 2006, we held a Green Halloween Fundraiser. Here's a picture of our board members at the event at Madam's Organ (right). In May 2007, we had a spring fundraising date auction at Ireland's Four Fields (left).
Eco-Outings hiked Old Rag in November 2008 (right).  In December 2008, they went ice skating in a sculpture garden (upper left). By March 2009, Eco-outings took archery lessons (bottom left).
Here's our Five-Year Gala, held at the National Botanical Garden in June 2009.
In August 2009, DC EcoWomen went tubing (bottom right). We had fun at our 2009 Holiday Party (left), and enjoyed our wine tasting and networking event in April 2010 (upper right).
Our November 2010 EcoHour featured former EPA Administrator Gina McCarthy, seen here with Kelly Rand, former DC EcoWomen Chair.
Our Spring Wildflower Hike in April 2011 (upper left). In July 2011, we held an EcoMoms meeting (bottom left). By November 2011, former DC EcoWomen President Jessica Lubetsky instructed 20+ women on how to improve their resumes at our resume building workshop (right).
DC EcoWomen volunteered at the Walker Jones urban farm in July 2012 (right). In November 2012, we held a Craft, Chat and Chocolate event (left).
This picture was taken during a session at the May 2013 DC EcoWomen conference – I'm Here, What's Next?
Our book club – a time when women discuss a book or series of small articles, blogs and podcasts with an environmental angle – met in May 2013 to discuss Silent Spring at the Navy Memorial/National Archives.
DC EcoWomen members tabled during the 2013 Green Living Expo DC (upper left). Our members volunteered at a 2013 coastal cleanup with Women's Aquatic Network (bottom left). In October 2013, we hosted a locavore potluck (right).
DC EcoWomen coordinated a mentor tea at Hillwood Estate in 2014 (left). We also put on a clothing swap in fall 2015 (right).
DC EcoWomen went behind-the-scenes during a tour of the Smithsonian's National Zoo and Conservation Biology Institute in Sept 2015 (left). We held a rock climbing event in February 2016 (right).
This picture was taken during our August 2016 Board Retreat.
Our Women's Suffrage Parade Walking Tour in March 2017 (left). We participated in the People's Climate March in April 2017 (bottom right). We also coordinated a Working Women in American History Bike Tour in May 2017 (upper right).
The Skills-building Leveling Up Workshop in December 2017 (left). DC EcoWomen and Department of Energy's May 2018 event, which showcased two of the world's first commercial hydrogen fuel cell cars (right).
Back to where it all began, an EcoHour! This picture is from February 2019 and includes members of our Professional Development Committee and our speaker Stephanie Ritchie, Agriculture and Natural Resources Librarian at the University of Maryland (third from left).
Alyssa Ritterstein is a driven communications professional, with a proven track record of creating and executing successful communications and media relations strategies for nonprofit organizations, associations and a public relations firm. Her career spans various climate, energy and environmental communications work.
Raising A Glass To DC EcoWomen At The Ten Year Gala
Written by DC EcoWomen President Christina Sorrento
EcoWomen had its first ever EcoHour the year I moved to Washington DC. The year was 2004 and the speaker was Alisa Gravitz, then the Executive Director of Co-op America. I was not aware of EcoWomen at the time and did not attend the event but little did I know how that night would impact my life for years to come. After that first EcoHour where Alisa laid out a roadmap for success, EcoWomen continued to grow.
I attended my first event in 2007 and I was hooked. The EcoHour was so inspirational and I was in a place in my career where I wanted a deeper connection with the environmental community. I asked one of the Board members at the time, Anne Richardson, whether EcoWomen needed any help. I was immediately drafted into the then Speaker Coordinator role where I was responsible for scheduling the monthly EcoHour speakers. I have been on the DC Executive Board for EcoWomen ever since that moment of volunteering my services in 2007.
Over the past seven years, I have held five positions on the Board, attended 72 EcoHours, eight professional development workshops, numerous potlucks, happy hours, clothing swaps, book clubs, holiday parties, and volunteer activities, one conference, and soon to be two galas. In addition to attending events, I have made long-lasting friendships and connections. I have been to the weddings, baby showers, birthday parties, and housewarming parties of fellow EcoWomen as well as celebrated their promotions and career achievements. My involvement in this organization has had a life-long impact and I know I'm not the only EcoWomen who feels that way.
The amount of growth EcoWomen has experienced is incredible. When I joined back in 2007, we only had EcoHour every month, a once a year fun event, and a yearly fundraising auction. Now, EcoWomen is a national organization with new chapters in Colorado, San Francisco, Seattle, and Baltimore.
The Washington D.C. founding chapter has 18 Executive Board members and four committees — Communications, Membership, Professional Development, and Programs — and we average 42 events a year; that's almost one event a week! Of course none of this could happen without the dedication of the DC Executive Board and the support of our members. We all have something to celebrate as we look back over these last ten years. I'm excited to see what the next ten will bring!
Don't forget to get your tickets to the gala on April 24!
Classic Neutrals, all made in USA: Suno, $595; Milly, $425; Vera Wang, $1750
Not sure what to wear to the DC Ecowomen Gala? Something eco-friendly, of course! The #1 most eco-friendly place you can shop is, of course, your own closet, but if you realllllly can't find anything that gets you excited, then donate or consign those dresses you're not digging, and start the hunt for a new one.
One of my favorite ways to shop sustainably is by shopping for secondhand and vintage dresses. For vintage, Etsy is one of the easiest stops with the widest variety of sizes and eras, and for secondhand dresses, you can check out Ebay if you're looking for something specific, or head to a consignment site like Mode Marteau or Snobswap to get a more edited, on trend selection.
Last but not least, don't forget to hit up the local consignment stores that are right here in DC! These are all small businesses, so you can feel good about supporting them, recycling an article of clothing, and undoubtedly finding a beautiful dress you'll wear for years. Each of the stores below has well-edited, quality stock that changes almost daily, so you never know what you'll find:
Reddz Trading (Bethesda and Georgetown)
If you're looking for something brand-spanking new, that's cool, too. There are so many on-trend brands out there that (thankfully) use organic materials, manufacture their dresses here in the USA, or use fair trade labor, and I've put together a few of my favorites in the images above and below.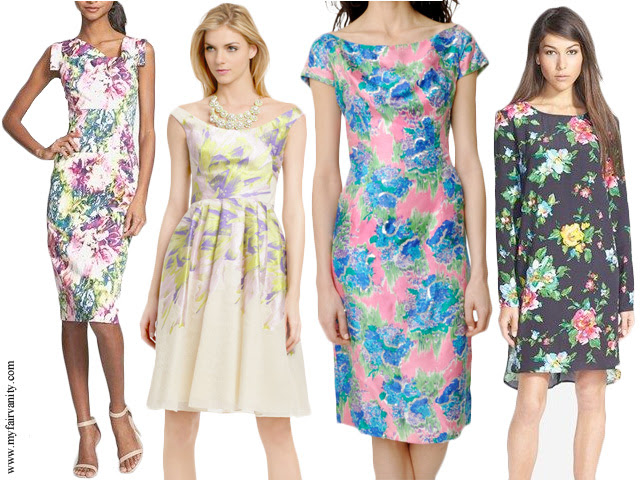 Spring florals:
Black Halo, $375; Lela Rose, made in the USA, $40 from Rent the Runway;  
Vintage dress from Etsy, $98;  Wayf, made in the USA, $58;
Last but not least, one more eco-friendly way to dress to impress is to rent a dress via Rent the Runway. You choose dresses priced at $1500 and spend $50 to rent them for one evening, empowering several other women to wear it after you. It's kind of like Zipcar or Car2go for dresses, and I think it's the bees knees.
If you'd like to see dozens more ethical dress options like the ones above, click over to my ever-growing Pinterest collection of eco-friendly party dresses, and follow along with me on My Fair Vanity. And, of course, don't forget to grab your tickets for the Gala!
Rachel Mlinarchik blogs about sustainable style that is kind to the earth and the people on it at My Fair Vanity.