Archive for April 2014 | Monthly archive page
7 Tips To Help You Find Your New Dream Job
We all have those moments where we question whether our current job is the right fit. Maybe the hours are too long, the work unrewarding or the pay too low. Fortunately, if you're currently employed you're one step closer to getting a new job.
Here are some helpful hints to make the job search for the already employed just a bit easier!
Investigate.
Determine the reason why you are unsatisfied in your current position and whether it is something you can change.
Is it the pay? Investigate the possibility of a raise. The work? Talk to your supervisor about new opportunities. A fresh project might be exactly what you need to spark yourself out of complacency. The monotony of the office job? Talk to your boss about the possibility of a flex schedule.
Remember, before making any rash decisions, see if you can improve the job you already have, the results may surprise you and it's lot easier to keep the job you already have, than to find a new one.
Plan.
If you do proceed with your job search, do your homework. What sort of position are you looking for? Is it just the current position you dislike or the whole field? Do you want to stay in the same city, or are you hoping to move? Narrow your search, if you don't, you're likely to become overwhelmed. Once you have narrowed your search, create a running list of all the organizations that interest you. Research those organizations; plan informational interviews to find out how they hire their employees. There's no point in moving from one dissatisfying job to another, so make sure you know what you're looking for, before jumping into another position.
Volunteer.
This is the perfect opportunity to volunteer at an organization that interests you. It allows you to tap into potential interests, while still being paid at your current position. It will also help fill any resume gaps, while providing an excellent networking opportunity. Employers are definitely more likely to hire you, if they know you and that you have such an interest in their organization that you have been willing to work there for free.
Make the Time.
Between your current job, and other life responsibilities (I mean did I not just tell you start volunteering), it may be difficult to find the time for your job search. But, this is why discipline is critical. Carve out a specific amount of time each weekday and stick to it. Dedicate 45 minutes a day to your job search, whether it's as soon as you wake up, or just before you go to bed. Take this time to investigate opportunities, revise your resume, and contact current connections. Remember, it is important to do this on your on time, and not on your employer's dime.
Network.
Large urban centers have networking events every day. Commit to attending one
once a week, and staying just long enough to make one new connection. This small time commitment will grow your network exponentially. Also, by creating a specific goal of making just one connection at each event, it will make those nerve-wracking networking events a lot more manageable.
Stay Committed.
Just because you're looking for a new job, does not give you an excuse to slack off at your current job. In fact, it should give you even more motivation to shine. Your organization likely interacts with several other organizations on a daily basis, whether it is customers, clients or competitors. Take that opportunity to make connections, without overtly letting people know you are in the market for a new position. Loyalty is an important quality, and a shining work product and a desire for new opportunities stand to make you more in demand, than a plea for a new job.
Stay Classy.
If you do get a new job, make sure to treat your past employer with respect. Give the requisite two weeks or more, and be gracious. Networks are very small and reputation is important. You never know when you could run into your past employer in your new position.
Good Luck on Your Job Search!
Written by  Alexandra Gilliland, an environmental urbanite with a love for warm beverages and long city walks.


Eighty-Five Percent Of Climate Change Guests In Media Are Men
Cross-posted with permission from Media Matters.
Two Media Matters analyses suggest that over 85 percent of those quoted in the media about climate change are men. Several top women in the field denounced this disparity, noting that women will be disproportionately affected by the impacts of climate change.
A review of a recent Media Matters analysis of print and television coverage of the U.N. climate reports found that women made up less than 15 percent of interviewees. A look back at our analysis of broadcast coverage of climate change unearthed the same stark disparity: less than 14 percent of those quoted on the nightly news shows and Sunday shows in 2013 were women.
Allison Chin, the former president of the Sierra Club, decried this gender gap in a statement to Media Matters:
The gender imbalance among those quoted on the climate crisis is striking, particularly since women around the world are more vulnerable to the dangers of climate disruption and among the most active in the movement for solutions. Globally, existing inequalities give women less access and less control over resources and make them more susceptible to the worst effects of extreme weather. The last thing the media should do is amplify that divide by only covering one set of perspectives.
Rebecca Lefton, senior policy analyst at the Center for American Progress and an expert in international climate change policy and gender equality agreed, telling Media Matters that this is an environmental justice issue because "women are disproportionately impacted by climate change, especially in developing countries." Indeed, studies show, for instance, that women disproportionately suffer the impacts of extreme weather disasters, some of which are exacerbated by climate change, in part because they are more likely to be poor. Lefton added, "Without women's voices we lose the perspective of half of the population and without women's participation, the transition to a cleaner economy will be slower."
The lack of women's voices in climate change conversations in the media is not due to a shortage of powerful women in climate policy and communications. U.N. Climate Chief Christiana Figueres, who is in charge of negotiating a global climate treaty, noted in March that "women often bear the brunt in places where the impacts of climate change are already being felt." The last two heads of the Environmental Protection Agency, which is slated to come out with carbon pollution standards for future power plants, were both women — current administrator Gina McCarthy and former administrator Lisa Jackson.
Media Matters has previously found that women make up only about a quarter of guests on the Sunday morning talk shows and weekday evening cable news segments on the economy. However, the gender gap on climate change conversations is even starker. One contributing factor may be that the climate sciences have experienced a "female brain drain," according to Scientific American, as have many other scientific fields. This "female brain drain" is also evident in the largely male leadership of the U.N.'s Intergovernmental Panel on Climate Change.
Women that do enter the field often face discrimination. Two prominent female climate scientists, Heidi Cullen and Katherine Hayhoe, have both been dismissed by Rush Limbaugh as "babe[s]." Hayhoe, an evangelical Christian who is one of the stars of a new Showtime series on climate change, told E&E News that much of the internet harassment she receives focuses on her gender:
Another way to avoid a particularly nasty form of harassment: Don't be a female climate scientist. According to Hayhoe and [Kari] Norgaard, women who have been targeted for their climate change research, more than 90 percent of the harassing emails they receive are from men and often include gender-specific abuse. Some emails tell them to get back in the kitchen. A few are more threatening. "I've filed a police report before," Hayhoe said, after emails have made her feel unsafe or threatened her family.
Upworthy recently highlighted Carter Wall, a clean energy professional working to address climate change, who noted that when she majored in Biochemistry, she struggled to find female role models. Her story is part of a Department of Energy series on women in STEM (Science, Technology, Engineering, and Mathematic fields).

Ensuring that women receive equal airtime in climate change discussions is crucial to providing girls with female role models in the media, which in turn can help to eradicate gender inequality in the field.
Photo at top of U.N. Climate Chief Christiana Figueres, of Costa Rica, by the EPA via The Guardian.
For Earth Day,  A Story Of Renovation
There's Never A "Best" Time To Start
I started trying to reduce my waste at the absolute worst time. After college, a few friends and I decided to move into my grandparents' former home, which was still filled with their possessions and in disrepair. With no jobs lined up and plenty of free time on our hands, we traded our first year's rent in exchange for fixing up the place.
Although it took some time before we could move in, today we are happily settled (though we are still renovating). Our kitchen is tiled, the walls are painted, and most of the light fixtures are in working order. The house feels like home. It took a lot to get there.
First: To The Dumpster
Most of the first few weeks consisted of throwing things out. Proper disposal was key: we took old pesticides, oil based paints, and appliances to the local landfill, which has a hazardous waste disposal program. When we first started going through the house, it quickly became clear: we had no idea what we were going to do. If there were ever a lesson in how much we leave behind in our lifetimes, this was it. My grandparents weren't excessive consumers, but they both grew up in poor rural families and apparently saved everything they ever owned. So much for reducing waste – we had to figure out how to dispose of old oil paint, ratty, stained carpet, and a plethora of rusty nails.
Fix The Foundation: Flooring
Throughout the renovation process, flooring was one of the trickiest matters. Our budget was "as small as possible," but we had to do something. We learned the hard way – with mold and rot – that the base level of plywood does not make a good bathroom floor.
Old carpet, unfortunately, went in the trashcan, and I resolved never to install carpet in a future home. In hindsight, I learned that carpet can sometimes be recycled. However, if you have hardwood floors (like we did) beneath the carpet, it doesn't make sense to put it in in the first place. If you're going to install, smaller pieces are more eco-friendly, and remnants are available for a discount at many stores.
After the carpet was removed from the living room, upstairs, and kitchen (yes, kitchen), we needed to put something on the floor. I researched many options, including vinyl tile (the cheapest), but ended up settling on ceramic tile for the kitchen. Because I was putting something new in my home, I didn't want the off gassing from vinyl (which is highly toxic). Vinyl is also toxic throughout its life cycle Linoleum was an eco-friendly option, but we couldn't find a color we liked. Since the area we wanted to tile was so small, we decided it wouldn't affect the budget too much and was the most viable option.
Next, we started fixing what we had. We restored the hardwood floors on the main level, though we just cleaned the ones upstairs. We visited a building materials thrift store, the Community Forklift, and bought paint for the peeling front steps and the upstairs bathroom. The furniture in the house was in great condition, but we put felt pads on the chairs and tables to protect the floors.
Personalizing Your Home.
Finally, we started to create a home we wanted to live in. The living room couch was fine, but we added a washable slipcover to adapt it to the colors we wanted. I started landscaping, tearing out weeds that had become small trees, and planting native and drought-tolerant species in the beds already in the yard. This year, I added cedar raised beds, chosen for their durability, and filled them with compost.
Throughout the renovation process, we threw out as little as possible and reused what we could. My grandfather had a host of building supplies in the basement, and the nails we used to hang pictures all came from his stash. When we were mostly finished renovating and needed some dishes, we went to the thrift store. I kept the bookshelf from the master bedroom and all of the old light fixtures. We refused to throw out anything useable and kept most of the old linens, though we took the extras to the thrift store.
An Act Of Remembrance.
For me, the renovation was as much an act of remembrance as it was restoration. I didn't hold onto items that were no longer useful purely for remembrance, but every morning I use my grandparents' old, stained teakettle to boil water. Some of the tools in the basement helped me start my first solo vegetable garden, and the small yellow lamp on my desk once belonged to my grandfather and now helps me write.
Reducing Consumption. 
Renovating the house only reinforced my commitment to reducing my consumption. I gained some incredible insight into my grandparents' lives and learned bits and pieces of their stories I never heard when they were alive, and I'm living in the midst of their legacies every day. I wonder, too, who first owned the giant soup pot we found at the thrift store. Who did some of my cookbooks once belong to? And when and why did my grandmother buy those knee-high black leather boots with the three inch heels?
Written by Caroline Selle, the Zero Waste Girl
Raising A Glass To DC EcoWomen At The Ten Year Gala
Written by DC EcoWomen President Christina Sorrento
EcoWomen had its first ever EcoHour the year I moved to Washington DC. The year was 2004 and the speaker was Alisa Gravitz, then the Executive Director of Co-op America. I was not aware of EcoWomen at the time and did not attend the event but little did I know how that night would impact my life for years to come. After that first EcoHour where Alisa laid out a roadmap for success, EcoWomen continued to grow.
I attended my first event in 2007 and I was hooked. The EcoHour was so inspirational and I was in a place in my career where I wanted a deeper connection with the environmental community. I asked one of the Board members at the time, Anne Richardson, whether EcoWomen needed any help. I was immediately drafted into the then Speaker Coordinator role where I was responsible for scheduling the monthly EcoHour speakers. I have been on the DC Executive Board for EcoWomen ever since that moment of volunteering my services in 2007.
Over the past seven years, I have held five positions on the Board, attended 72 EcoHours, eight professional development workshops, numerous potlucks, happy hours, clothing swaps, book clubs, holiday parties, and volunteer activities, one conference, and soon to be two galas. In addition to attending events, I have made long-lasting friendships and connections. I have been to the weddings, baby showers, birthday parties, and housewarming parties of fellow EcoWomen as well as celebrated their promotions and career achievements. My involvement in this organization has had a life-long impact and I know I'm not the only EcoWomen who feels that way.
The amount of growth EcoWomen has experienced is incredible. When I joined back in 2007, we only had EcoHour every month, a once a year fun event, and a yearly fundraising auction. Now, EcoWomen is a national organization with new chapters in Colorado, San Francisco, Seattle, and Baltimore.
The Washington D.C. founding chapter has 18 Executive Board members and four committees — Communications, Membership, Professional Development, and Programs — and we average 42 events a year; that's almost one event a week! Of course none of this could happen without the dedication of the DC Executive Board and the support of our members. We all have something to celebrate as we look back over these last ten years. I'm excited to see what the next ten will bring!
Don't forget to get your tickets to the gala on April 24!
Classic Neutrals, all made in USA: Suno, $595; Milly, $425; Vera Wang, $1750
Not sure what to wear to the DC Ecowomen Gala? Something eco-friendly, of course! The #1 most eco-friendly place you can shop is, of course, your own closet, but if you realllllly can't find anything that gets you excited, then donate or consign those dresses you're not digging, and start the hunt for a new one.
One of my favorite ways to shop sustainably is by shopping for secondhand and vintage dresses. For vintage, Etsy is one of the easiest stops with the widest variety of sizes and eras, and for secondhand dresses, you can check out Ebay if you're looking for something specific, or head to a consignment site like Mode Marteau or Snobswap to get a more edited, on trend selection.
Last but not least, don't forget to hit up the local consignment stores that are right here in DC! These are all small businesses, so you can feel good about supporting them, recycling an article of clothing, and undoubtedly finding a beautiful dress you'll wear for years. Each of the stores below has well-edited, quality stock that changes almost daily, so you never know what you'll find:
Reddz Trading (Bethesda and Georgetown)
If you're looking for something brand-spanking new, that's cool, too. There are so many on-trend brands out there that (thankfully) use organic materials, manufacture their dresses here in the USA, or use fair trade labor, and I've put together a few of my favorites in the images above and below.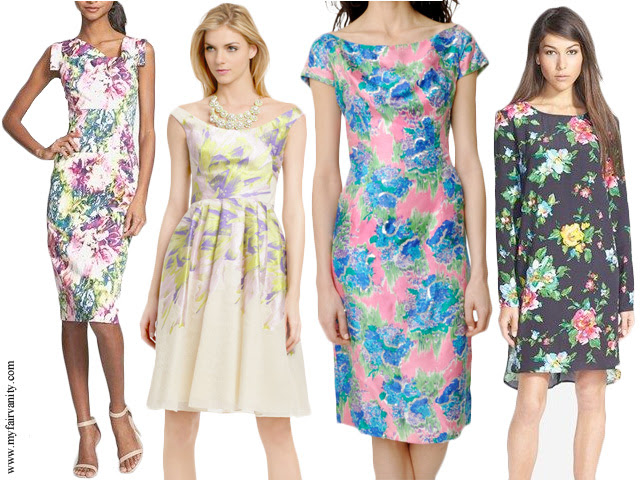 Spring florals:
Black Halo, $375; Lela Rose, made in the USA, $40 from Rent the Runway;  
Vintage dress from Etsy, $98;  Wayf, made in the USA, $58;
Last but not least, one more eco-friendly way to dress to impress is to rent a dress via Rent the Runway. You choose dresses priced at $1500 and spend $50 to rent them for one evening, empowering several other women to wear it after you. It's kind of like Zipcar or Car2go for dresses, and I think it's the bees knees.
If you'd like to see dozens more ethical dress options like the ones above, click over to my ever-growing Pinterest collection of eco-friendly party dresses, and follow along with me on My Fair Vanity. And, of course, don't forget to grab your tickets for the Gala!
Rachel Mlinarchik blogs about sustainable style that is kind to the earth and the people on it at My Fair Vanity.